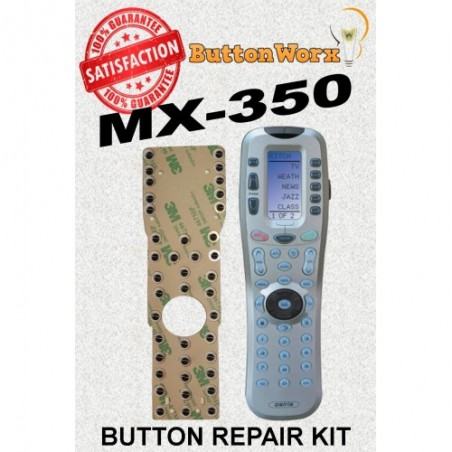  
OSIRIS URC MX350 RF20 RF30 URC200 Membrane Keypad Repair
Letter Mail Shipping Available
OSIRIS URC-200 / MX-350 / RF20 / RF30 Membrane Keypad Repair Kit 
Do-It-Yourself
• Permanent Repair
• No paint ink or glue
• Will not chip or flake off
• Tested over 1 Million button presses!
• Blocks dirt and oils forever
• Put in place! No need to peel and stick this one
Permanently repairs rubber keypad buttons by replacing the conductive material.
This repair does not fix problems with Directional and SEL buttons in MX300 / MX350. Those are metal snap dome switches and can be cleaned with DEOXIT G100L 
Your buttons fails when the conductive pad wears out and silicone oils seep from the keypad. This gooey paste blocks electrical conductivity and stops the switch from working.
The ButtonWorx membrane keypad blocks dirt and oil from reaching the circuit board and offers a new conductor that cannot break down like rubber conductors do. 
Note: This is for repairing hard to press buttons. If all your buttons stopped working one day, then the remote is broken (not the buttons) and needs repair 
For the RF30 you can cut the top buttons off with a pair of scissors
Video is for MX900 which comes apart similarly 
Select a row below to filter reviews.